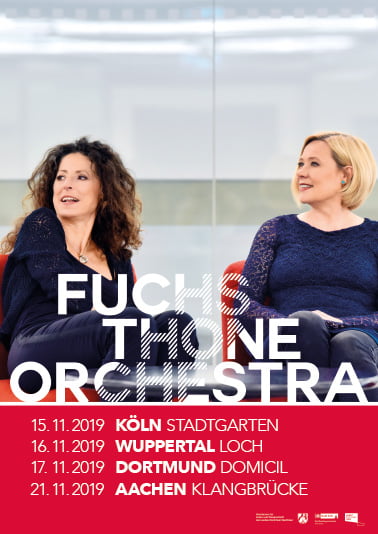 FUCHSTHONE Premiere (2019)
In November 2019, the time has finally come after a long period of preparation: the FUCHSTHONE ORCHESTRA premieres with a tour of four concerts!
Here's the lineup on Nov. 19, 2019 at Stadtgarten:
Caroline Thon, Christina Fuchs (composition, conduction, arrangement),
Roger Hanschel, Theresia Philipp, Matthew Halpin, Jens Böckamp, Susanne Weidinger (saxophone, clarinets, flutes),
Christian Mehler, John-Denis Renken, Matthias Bergmann, Matthias Knoop, Heidi Bayer, (trumpets),
Philipp Schittek, Matthias Schuller, Matthias Muche (trombones),
Wolf Schenk (basstrombone, tuba),
Zuzana Leharovà (violin),
Filippa Gojo (voice),
Laia Genc (piano),
Andreas Wahl (guitar),
Alex Morsey (bass),
Jens Düppe (drums),
Eva Pöpplein (electronics, live samples)
In this first-ever program, Caroline Thon and Christina Fuchs have created new compositions with electronics for this instrumentation and at the same time developed existing compositions further. The concerts have been a terrific success with the audience and the press. A good enough reason to continue this large-scale project.
Following pieces are on the program:
1) 1. SUITE High Fidelity of Materialism – what about the Nature?
(Composition: Caroline Thon)
Part I Ouvertüre
Part II The Beauty
Part III Materialism/The Black Swan
Part IV Reprise "Tsueltrim"
A 4-part suite "High Fidelity of Materialism".
The OPENING introduces the main motifs, THE BEAUTY is an an ode to nature (with quotations from Lucretius and from Buddhism) and MATERIALISM describes the coldness of our materialistic world. REPRISE is a musical appeal to compassion.
Caroline Thon:
"A big dream was the realization of my 4-part suite HIGH FIDELITY OF MATERIALISM, which is inspired by political actions and my collaboration on radio play productions."
2) ICELAND
(Composition: Christina Fuchs)
Addressing the current topic of climate crisis, the melting of glaciers in Iceland, in particular the glacier Oksjökull, which has died in 2019.
Also a tribute to Greta Thunberg and her courageous speech in front of the European Parliament on 4/16/2019.
Christina Fuchs:
"It is important to me to make it audible and tangible what is happening such as how the ice is melting, to transform the drama of the processes into music."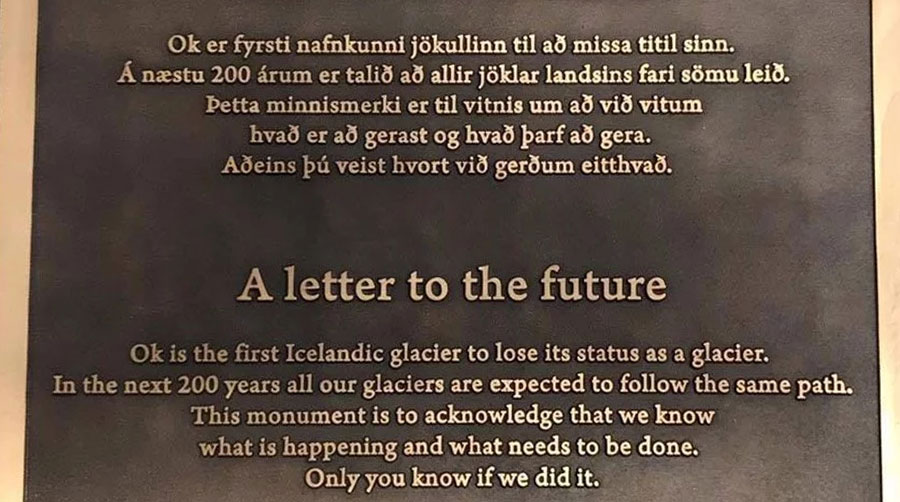 3) IS IT YOU?
(Composition: Caroline Thon)
Inspired by the composition "The Unanswered Question" by Charles Ives (1874-1954), this composition addresses the question of why two people recognize each other and say "yes" to each other. Love letters written in vain are discovered here as sound sources in their own right.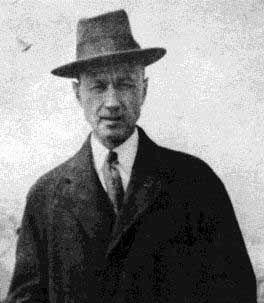 4) NEWTONS CRADLE
(Composition: Christina Fuchs)
Five small steel balls are suspended from a metal frame. For a while, no office desk lacked such an accessory: the ball impact pendulum or "Newton's Cradle" – simple and ingenious alike.
If you bounce one ball against the other four, one ball swings up on the other side; if you bounce two, two swing up: Newton's law of the conservation of energy, cause and effect, momentum and energy.
Christina Fuchs:
"… and these physical laws became quite real for me in 2014: it was this composition that got me the WDR Jazz Prize!"
5) POSCHTI
(Composition: Christina Fuchs)
This is an tribute to the Swiss post bus, affectionately referred to as Poschti in Schwyzerdütsch. In the mountains, the bus driver honks an A major triad in every serpentine as a warning to oncoming traffic!
Christina Fuchs:
"I could hardly believe it and, above all, I couldn't resist the temptation to write a piece about it."
6) TEXTURES OF MEMORY
(Composition: Christina Fuchs)
How do neuronal circuits work in the brain, how does memory work in relation to musical parameters?
Is a musical motif recognized by the brain in a completely different form or not?
Does the brain recognize that a piece is built from only one small motif and chord, but in different shapes and forms?
These are questions that Christina Fuchs explores in this piece as if it were a field experiment.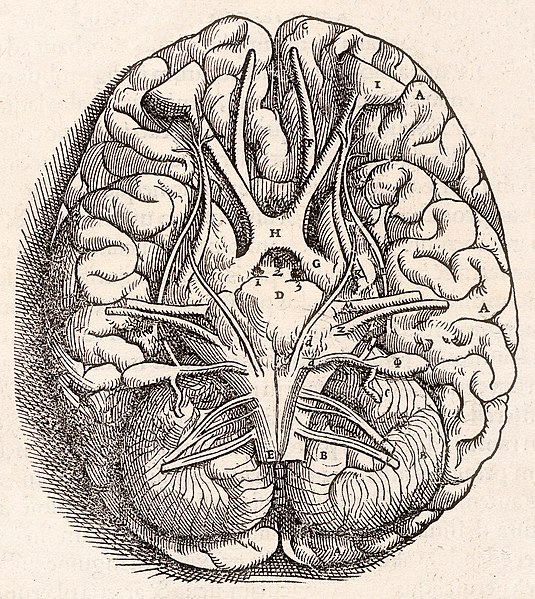 7) KRONOS
(Composition: Christina Fuchs)
Christina Fuchs:
"The subject of "time" has been fascinating me for a long time. It becomes audible here with the sounds of church bells, the ticking of a clock, setting the timing of this composition."
""Regardless of the complexity of the large orchestral events, it still is jazz, as it is authentically expressed by improvised solos. This opportunity for individual solos may contribute to the fact that an exceedingly collegial atmosphere of mutual perception and respect prevails in the orchestra…"
"Hardly before has the stylistic range been more varied, the sound spectrum more diverse, energetic and experimental.
The Fuchs Orchestra now presents itself as a new, musically extended constellation at the Big Band firmament. For this purpose, the composers, arrangers and musicians Christina Fuchs and Caroline Thon have sensationally well cast their ensemble…"
"Two established female saxophonists and composers with many years of experience in conducting large orchestras, now form a female dual leadership. Probably the first of its kind in jazz. This is a good sign. The ensemble consists of 22 award-winning musicians. It also includes instruments that are uncommon for a classical big band, such as violin and electronics…"
"Surprisingly fresh are their ideas for a new ensemble featuring electronics as a key element, which exceeds the concepts of big band and contemporary jazz by far…"
"Christina Fuchs and Caroline Thone have joined forces to found the FUCHSTHONE ORCHESTRA…"