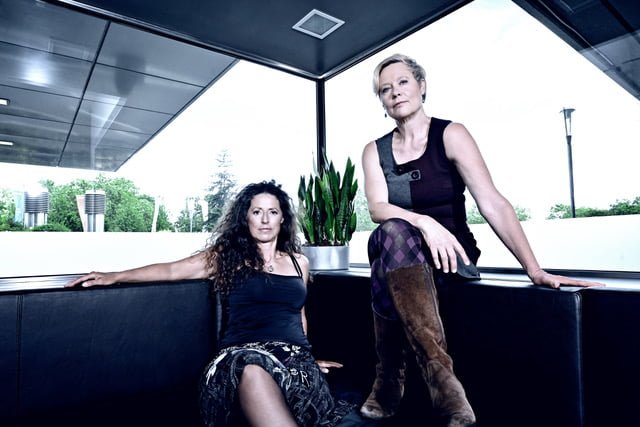 FUCHSTHONE RELOADED#5 (2022)
"ECHO CHAMBERS" … the 5th edition of the RELOADED# series reflects on this year's events and their effect on all of us. Where better to do this than in the echo chamber of one's own musical creation, interacting with the audience? The concerts and CD production (DLF) in early summer were shaped by euphoria and a spirit of optimism, but this fall the FUCHSTHONE ORCHESTRA returns in a more reflective mood.
RELOADED #5 is the current concert program of the FUCHSTHONE ORCHESTRA in fall 2022. It features the latest compositions of bandleaders Christina Fuchs and Caroline Thon.
Reloaded programs combine the ideas and striving for constant renewal and the search for for contemporary sounds. The repertoire of the FUCHSTHONE ORCHESTRA thus changes permanently and remains full of surprises.
The line-up in Nov 26th 2022 in Jazzschmiede in Düsseldorf:
Caroline Thon, Christina Fuchs (composition, conduction, arrangement),
Roger Hanschel, Martin Gasser, Veit Lange, Jens Böckamp, Susanne Weidinger (saxophone, clarinets, flutes),
Simon Eckert, John-Denis Renken, Matthias Bergmann, Janosch Löber (trumpets),
Philipp Schittek, Matthias Schuller, Matthias Muche (trombones),
Wolf Schenk (basstrombone, tuba),
Zuzana Leharovà (violin),
Filippa Gojo (vocal),
Laia Genc (piano),
Andreas Wahl (guitar),
Alex Morsey (bass),
Eva Pöpplein (electronics)
Jens Düppe (drums)
Folgende Stücke stehen auf dem Programm:
1) SEE THE TRUTH
(Composition: Caroline Thon)
The composition "See the Truth" (from 2012) was already part of the "reloaded#3" program, yet without our electronic musician Eva Pöpplein.
In the version adapted for 2021, in addition to the revision of the composition and the inclusion of a text, the content has also been expanded. In this current edition, the added electronic feeds illustrate the hectic everyday life that surrounds us, particularly in big cities. The tenor saxophone solo, alienated by live sampling, stands for the way we often perceive things in a distorted way.
"See the truth" describes the wish to be able to recognize the bright sides in each other in each encounter – no matter how negative or aggressive it may be – as often as possible. A noble undertaking … but worthwhile!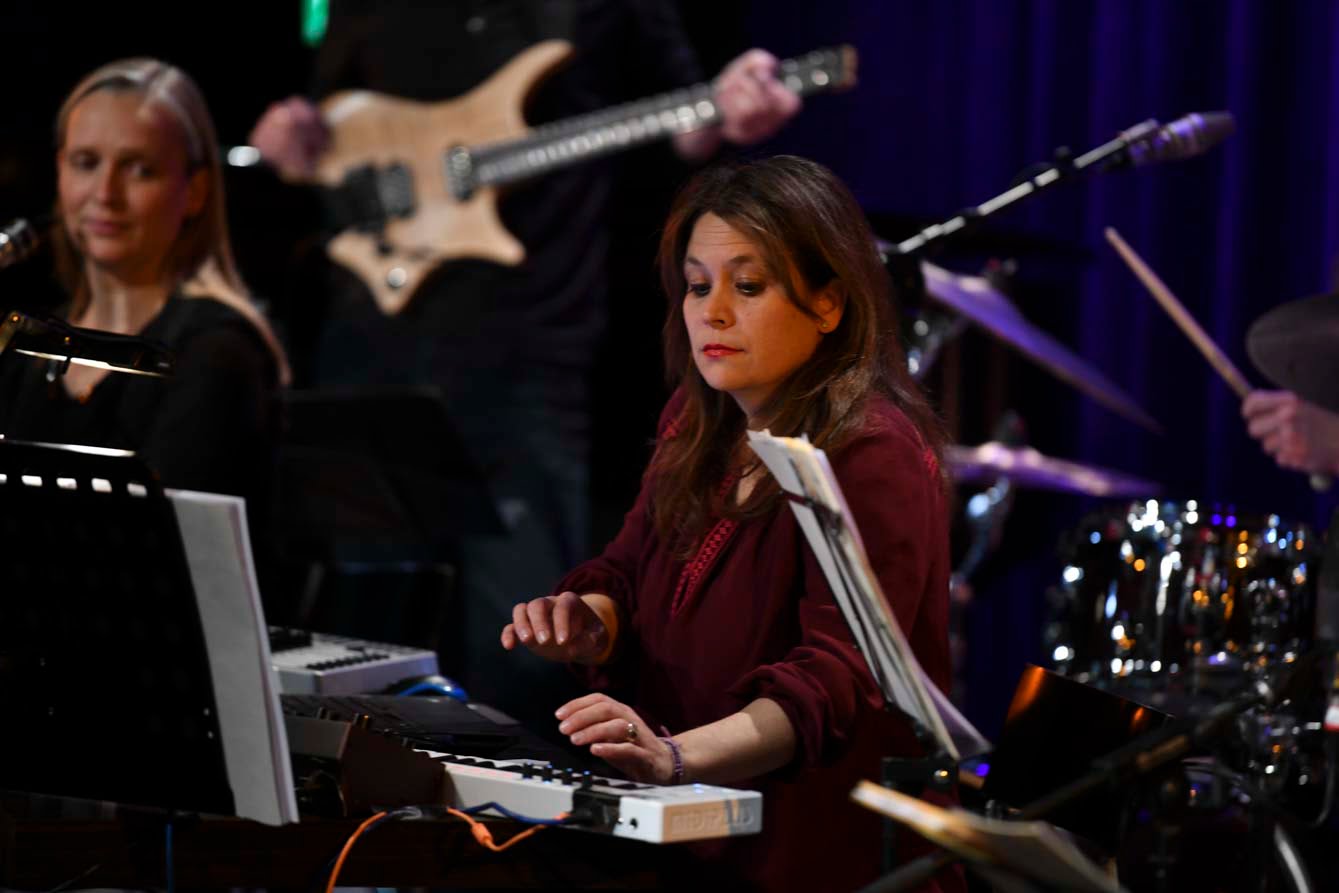 2) ECHO CHAMBERS Clouds & Bubbles
(Composition: Christina Fuchs 2022)
This composition is based on the work by the same title, which was created for the Festival "Romanischer Sommer Köln" for 10-piece ensemble in summer 2022.
Christina Fuchs:
I adapted this material from Echo Chambers to large orchestra here and intertwined it with electronics. The basic theme is still the ambivalence of the ideas: the cloud, in which the data of most of us lie, without us having a clue what is happening there- at the same time the gaze into the real clouds in the sky, which mean absolute freedom and being in the moment. The bubble is the metaphorical space in which we prefer to be, where statements are amplified- and disturbing elements, such as opinions to the contrary, are absorbed. Bubbles can also be the source of a vibrant creativity.
Lyrics: In a smart, blue sky, next to eternity you'll find art made out of water and molecules. Sometimes dense, sometimes blurred, always liquid. Never lasting landcsapes, feathers and cumulus, fine lines above.
Photo: Clouds 2022 by Christina Fuchs
3) INSIDE ME
(Composition: Caroline Thon 2022)
So many different pieces of information out there with all the conflicts and pandemics around us, so much confusion, and so many populists who think they have it all figured out. It can be very confusing and hard to keep a clear head.
Caroline Thon:
Therefore, in my opinion, we need an inner voice that gives us confidence and a positive outlook that strengthens us…this is the topic of "Inside Me".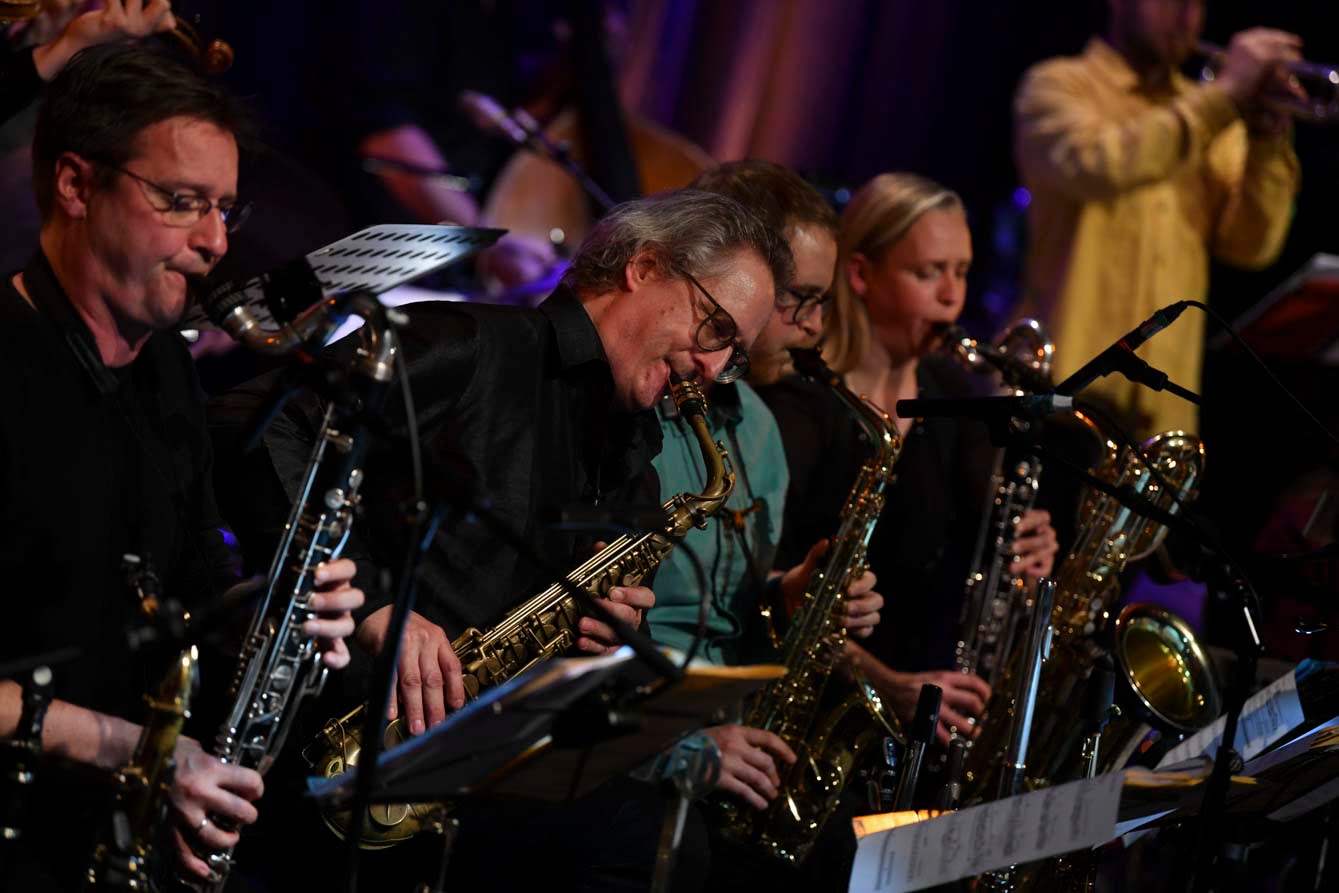 4) THERMAL WINDS
(Composition: Christina Fuchs 2022)
Christina Fuchs:
Sometimes you just want to get out of here, for example, flying. That's what happened this summer on a tandem paragliding flight that I took. It was both exciting and impressive to feel the power of the thermal winds.

Not without reason, flying is an old dream of mankind. Paragliding was such an emotional experience that I don't know what to say. Music can express it better in "Thermal Winds".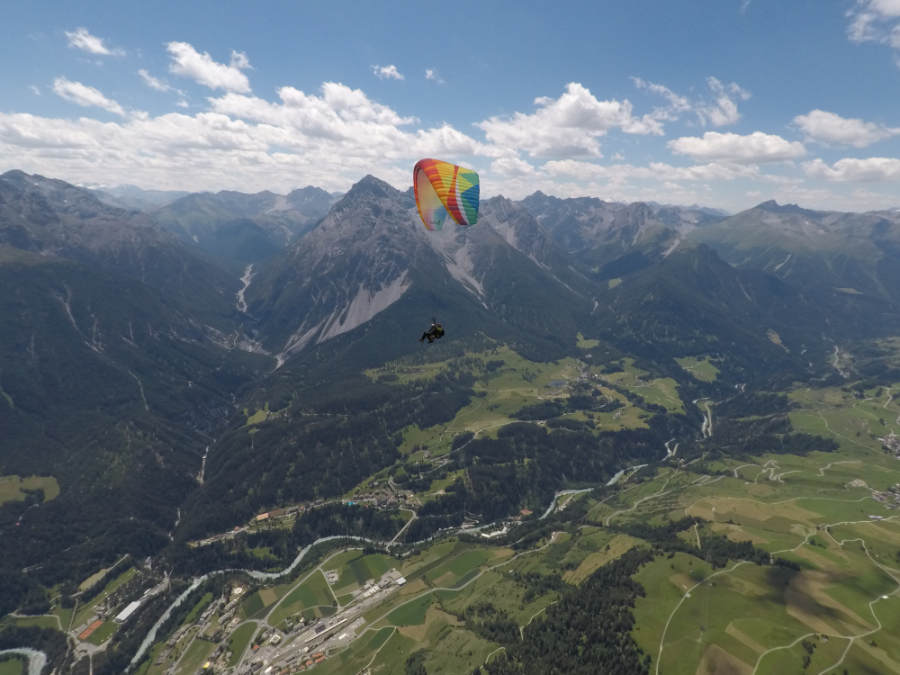 Photo: Thermal Winds 2022 by Christina Fuchs
5) OUTSIDE OF ME
(Composition: Caroline Thon 2022)
Outside of Me", which is based strongly on improvisation, is the counterpart to "Inside Me" and it describes what is going on around us right now. The breakdown of our former certainties caused by crises, climate change and pandemics. This triggers a feeling of helplessness inside of me,fear but also anger and despair how it could reach this point and why the politics still do not react adequately (for example: results of the world climate conference in Sharm El – Sheikh 2022 or the ignoring attitude towards the revolution in Iran).
Caroline Thon:
That composition is an intentional imposition in order to accuse and to wake up.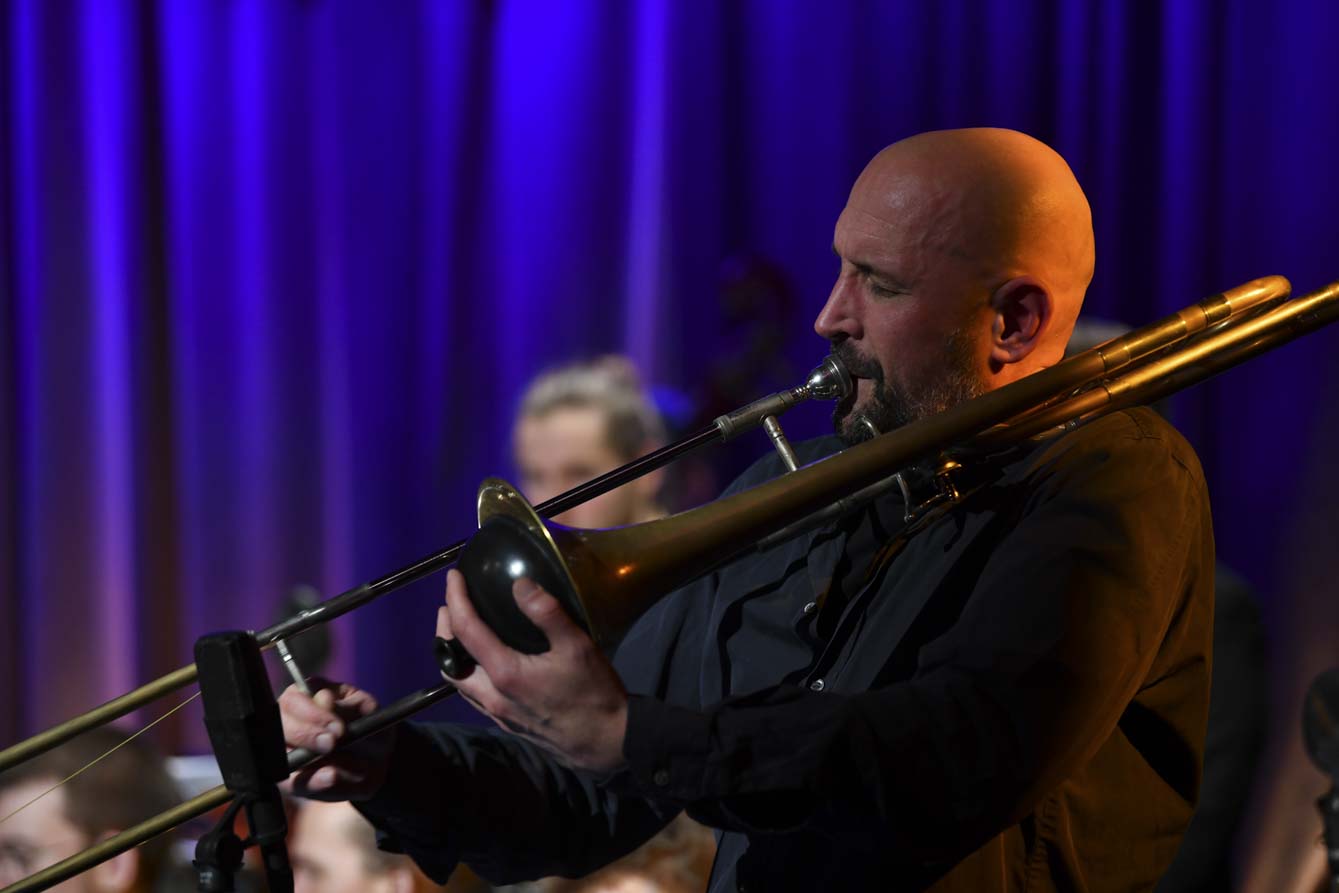 6) STRUCTURES V&VI
(Composition: Christina Fuchs 2022)
Christina Fuchs:
Structures V&VI are parts of a six part suite previously presented in "Reloaded#4" in spring 2022. This composition is based on six abstract photographs depicting natural structures. To these, electronic sounds are associated and the musical structures are composed.

Part V is also subtitled " Wooden Paths" because the photograph shows the trails that woodworms munch into the wood. In the process, random, abstract forms emerge, but with great stringency. I combined these with repetitive sounds of ping-pong balls inside the grand piano, which are also electronically processed.

Music structures reflect on microcosms.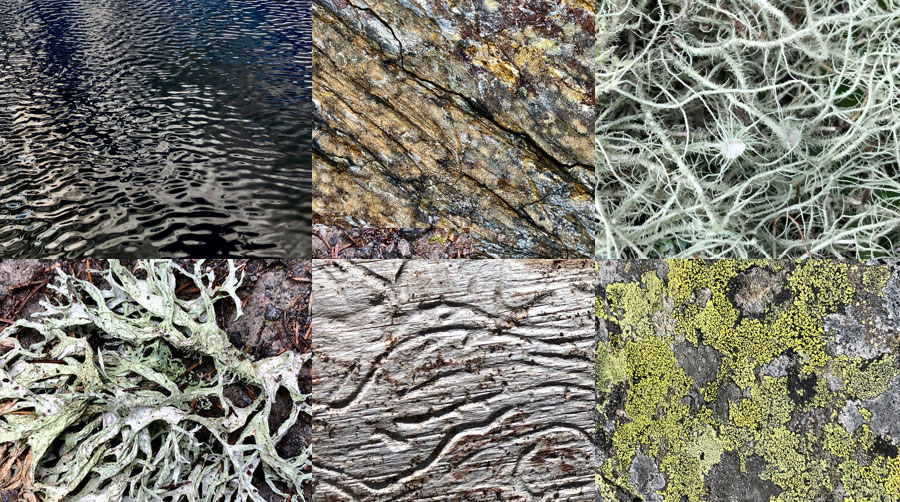 7) REPRISE
(Composition: Caroline Thon 2019)
Caroline Thon:
This composition represents the fourth part of my first suite "High Fidelity of Materialism – what about the Nature?" which expresses a musical appeal to compassion. The fact that this is not always easy becomes apparent, among other things, in the use of a constantly shifting 7/4 time signature as a canon. For the ear: Lucretius has his say with a famous quotation, but the intention here is to deny that basic statement of eternalism: that nothing becomes nothing, not even by the will of the gods.

"A big dream of mine was the realization of this 4-part suite HIGH FIDELITY OF MATERIALISM, which is shaped by political actions and my collaboration in radio play productions."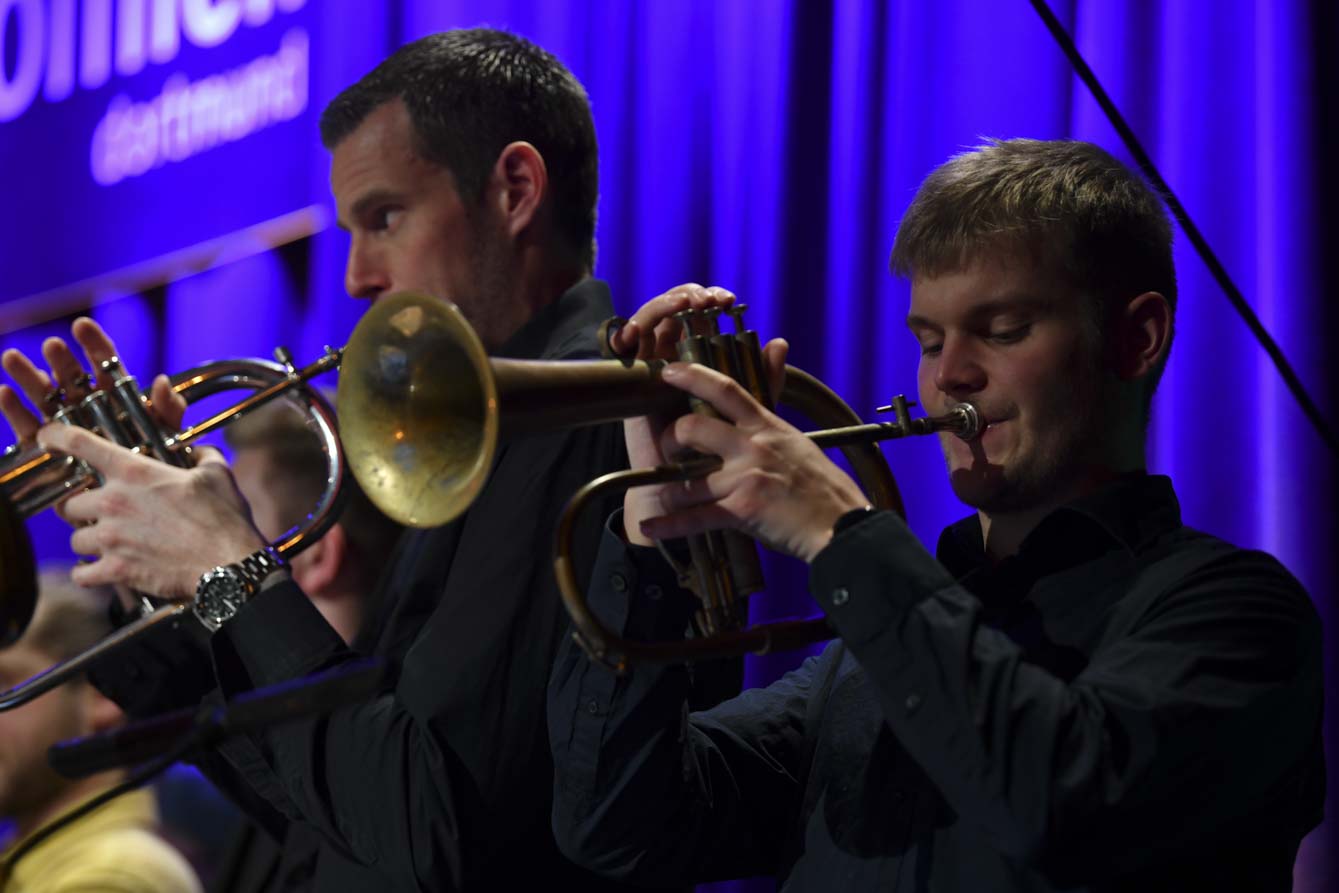 "The orchestra is a live ensemble and not a repertoire ensemble… older pieces are reworked, newly arranged and, most importantly, new pieces are written continuously. In the process, Christina Fuchs and Caroline Thon emphasise the importance of giving the musicians of the ensemble plenty of freedom for improvisation and own ideas."