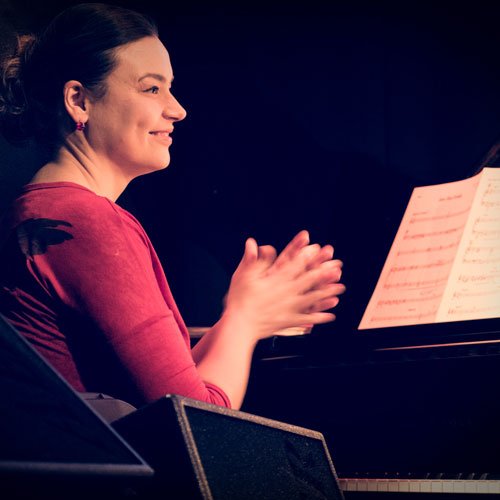 Photo Laia Genc by Steve Bauch
Laia Genc (*1978) studied piano at the conservatory in Cologne and as a guest student part time in Paris at the Conservatoire National Supérieur De Musique et De Danse.
The heart of her work is the project "LiaisonTonique", with whom in 2005 she released her debut recording "Trilogien" at the label "JazzHausMusik" and since then is playing concerts troughout Europe, as well as worldwide. To a lot of projects she adds a special colour as a sensitive soundpainteress, improviser, composer and arranger in her own particular way of mixing Jazz, free Improvisation and lots of musical charme to an unmistakable sound.
In her music she is as a composer as well as an interpreter a border crosser at the gateway between Jazz and contemporary music. Her extended piano techniques give Laia the freedom to fully explore the border between composed structures and improvisational freedom.
Open minded to the manifold influences of globalising life she draws not least from the different collaborations and cultural areas.
In her project LiaisonTonique she collaborated amongst others with french musicians such as Christophe Panzani, Daniel Casimir, Alban Darche and Sébastian Boisseau. In another context she worked with the Australian saxophonist Adam Simmons. She is involved as a sidewoman as well as a co-leader into different projects. Since she has started playing extensively she has been traveling and working music wise in Luxemburg, Italy, France, Austria, Swiss, Poland, Hungaria, Turkey, Norway, Lithuania, Haiti, Belgium, The Netherlands, Australia and Myanmar.