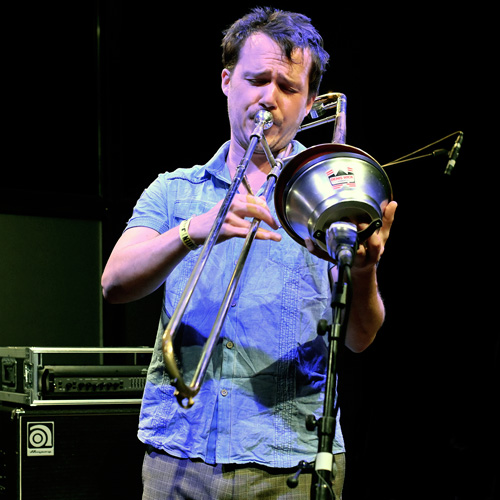 Photo Matthias Schuller by Gerhard Richter
Matthias Schuller grew up in the woods of central Franconia. His family encouraged him to make music from childhood on, and singing with his sisters and parents at home, and later in school and in church choirs, formed the basis of his musical development. By chance, he started playing trombone in a local brass ensemble, leading him to study music in Nuremberg and Cologne. His teachers included Matthias Herbst, Thomas Gertner, Silvan Koopmann, and Henning Berg.
He works in Cologne as a freelance musician and music school teacher. Currently, he makes up the duo hofmeisterschuller with pianist Jonathan Hofmeister and is also a member of the new music ensemble electronic ID, the FUCHSTHONE ORCHESTRA, the Vagrancy Ensemble, the indie rock cover band Who Let The Cat Out, and folk pop group Sophie's World Music.
He sees his music as expressing a love of life, and this love in turn as a divine gift. By his own description, his music is often beautiful, sometimes also wacky and weird. He can often be found in cafes and restaurants in the Nippes quarter of Cologne.
Releases: Multitude (Unit Records, 2015), Noise Garden (Label11, 2018), Haus (promotional album), Monkeys react to magic (Gartenmusik, 2020)