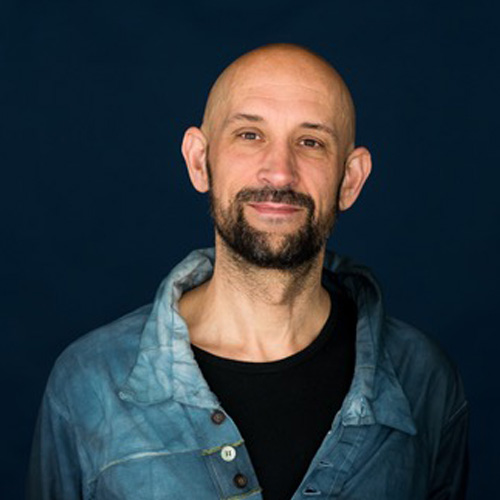 Photo Matthias Muche by Lutz Voigtländer
Matthias Muche studied jazz trombone and composition at the Amsterdamse Hogeschool voor de Kunsten, the Rotterdams Conservatorium, and the Cologne Hochschule für Musik und Tanz.
He also completed postgraduate studies in audiovisual media at the Kunsthochschule für Medien Cologne.
He works as a freelance instrumentalist in jazz and contemporary music, as an instrumental teacher, composer and improviser, and as a curator and artistic director of festivals and international artist encounters.
Among other areas, the focus of his work includes interdisciplinary projects in music, theater, dance and video art, in which intermedia compositional concepts are explored, and with which he has performed in over 50 countries under the label Zeitkunst e.V., as well as teaching master classes and workshops.
His compositions and improvisations bring together these very different influences and tell a wide variety of musical stories.
In his new solo project, he uses a wide variety of playing setups: feeds of speech and soundscapes into and on the trombone, spatial expansion using external bells, interactive computer graphics as synaesthetic perception, or simply the pure, naked trombone.
In 2021, Muche will receive the Jazz Prize of the WDR in the category Improvisation. From the prize committee's comments:
"A man in his laboratory, in his workshop, where the trombone, his instrument, stands. Matthias Muche is a researcher, a proven virtuoso of improvisation, who works tenaciously to unlock new doors and to demonstrate his instrumental ability from a variety of perspectives.
A trombonist who, in ever new encounters with professional colleagues, directs the focus of his research to the manifold potentials of this instrument, which possibly comes closer to the human voice than any other. Be it in the tender intimacy of a trombone duo or on the large canvas of Bonecrusher, where three trombonists, as soloists, move in a sonic territory laid down by seven trombonists in interplay with two percussionists: Matthias Muche knows how to set the stage for the trombone. And thus also for himself, and the mutability and innovation of his musical intuition.
… he soon became in demand as an improviser who, with virtuoso skill and an enormously physical stage presence, breaks through the boundaries of conventional jazz performance and departs from well-trodden paths to continually seek new adventures in sound.
A milestone in this quest was the founding of Zeitkunst, a platform for the "promotion and presentation of audiovisual art," and of the festival "Frischzelle" in 2004, where the division between classical and electronic instruments is erased."
(by Stefan Hentz & Tinka Koch)
Press reviews:
"His music uses all forms of sound expansion of the instrument, sounding at times like electronic music, then picking up and spinning rhythmic and melodic idioms from jazz."
(Rui Eduardo)
"[…] celebrating Duke Ellington and Billy Strayhorn, Matthias Muche uses open-horn trombone spits to reaffirm Ducal Jazz roots at the same time as it suggests possible so-called European concert music links. […] Muche is more akin to Beat poets Gregory Corso and Allen Ginsberg…to stretch the trombone language as much as the Beats did so with English language imagery."
Ken Waxman – jazzword
International festival appearances and tours:
Ankara Jazz Festival, Art Cologne, Alarme Festival Berlin, Achtbrücken Cologne, Cairo Festival, de: sonanz Festival Skopje, Fri Resonans Festival Trondheim, Festival Nuit D`Hiver Marseille, Gent Jazz Festival, GetItLouder Festival Beijing/Shanghai, Hanoi Sound Stuff Festival, Hyderabad Jazz Festival, ISCMS Festival Istanbul, Jazzdor Festival Strasbourg, Jazzfestival Saalfelden, Jazzwerkstatt Wien, Jazzwerkstatt Peitz Festival, Festival, Journées Électriques Festival Albi, Mawazine Festival Rabat, Metro Al MAdina Festival Beirut, Mediawave Festival Gyor, Mingus Festival Jazzwerkstatt Berlin, moers festival, Musikprotokoll Graz – Steirischer Herbst, MonaFoma Festival Tasmania, North Sea Jazz Festival, novembermusic Essen, nownow Festival Sydney, nozart Festival Köln, PlaygroundRobotics Bern, Plaza-Festival Taipei, Re: new Digital Arts Festival Copenhagen, Relincha Festival Chile, Traumzeit Festival Duisburg, Umlaut Festival Paris, Wien Modern.
Tours with the Goethe Institute to the Middle East, Balkans, Africa, Asia, Central America, Australia, India and the Baltic States.