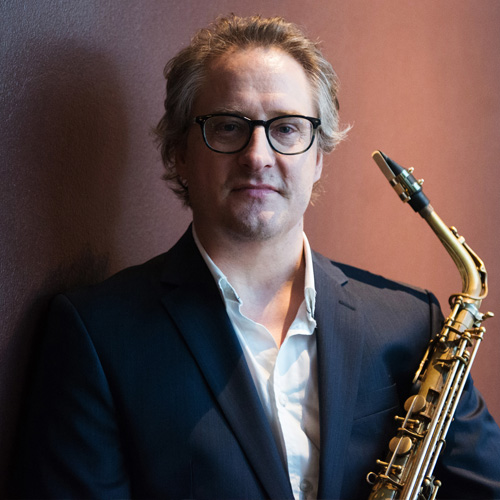 Photo Roger Hanschel by Lutz Voigtländer
After beginning his musical education at a young age, Roger Hanschel began to play the saxophone at the age of 11.  Early on he developed a fascination for jazz and improvised music and at 14 founded his first group.
He studied saxophone at the Musikhochschule in Cologne, Germany. At this point, original composition became a major emphasis in his work, along with performing on the saxophone. There he founded the group NANA in 1983 with Hans Lüdemann (piano), Rainer Linke (bass), and Klaus Mages (drums).
From NANA the group BLAU FRONTAL emerged. This group published 2 CDs, one a trio and one in cooperation with Mark Feldmann (vl) and Hank Roberts (vcl).
In 1986 he studied at the "School for Fine Arts" in Banff, Canada with Dave Liebmann, Dave Holland, Richie Beirach, and others.Hanschel is a member of the KÖLNER SAXOPHON MAFIA since 1987.  The ensemble has received four German Record Prizes as well as the SWR (Southern German Radio) Jazz Prize in 1999.
Since 1994 he had a long term collaboration with singer GABRIELE HASLER, and regularly performed live with her.  They recorded 5 CDs together and were the recipients of the Ensemble-competition "Jazz Arts 2003" prize (Germany).
From 1994 to 1998 he performed in a duo with the Dutch cellist ERNST REIJSEGER. He became a member of the STEFFEN SCHORN SEPTET in 1998 and is now performs with Schorn's UNIVERSE OF POSSIBILITIES. In 1999 and 2003 he played in the KLAUS KÖNIG ORCHESTRA.
In January 1998 he presented his music for saxophone and string quartet with the title "years of the fifth period."  For this project he collaborated with the FRANKFURT CONTEMPORARY QUARTET.
In 2000, along with Steffen Schorn and Dirk Mündelein, he founded TRIOSPHERE, which released their first CD in 2004 (winner of the German Record Critics' Prize).
In 2006 he founded the quartet ROGER HANSCHELS HEAVY ROTATION (with Markus Segschneider, Dietmar Fuhr, and Daniel Schröteler).
Since 2007 he has been performing SOLO CONCERTS throughout Europe and released his first complete solo CD in March 2011.
He has collaborated as a soloist with the NORWEGIAN WIND ENSEMBLE (Norway), the NDR BIG BAND (Germany), and GOTLAND MUSIKEN (Sweden).
In 2013 he was performing and producing his new program "Niederschlagsmengen" for Saxophone and Stringquartet with the AURYN QUARTET. The CD was released in 2014.
In 2014 he founded the group TRIO BENARES (Deobrat Mishra – Sitar, Prashant Mishra – Tabla). There CD "Assi Ghat" won the "Preis der deutschen Schallplattenkritik.
In 2017 he founded the Duo LAIA-GENC & ROGER HANSCHEL
In 2018 he received the WDR JAZZPREIS.